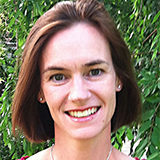 Carter Fellow Reflects on Challenging and Enriching Year
Courtenay Harris Bond is a 2017–18 Rosalynn Carter Mental Health Journalism Fellowship recipient. She is a freelance journalist and a Scattergood Foundation Journalist-in-Residence.
Q: What was your project as a Rosalynn Carter Mental Health Journalism Fellow?
I examined the efficacy of medication-assisted treatment (MAT) for opioid use disorder in the real world. I spent the year following individuals through their treatment and relapses in Kensington, the epicenter of the opioid crisis in Philadelphia. I spent time with homeless drug users, ultimately writing a long-form article for Undark.org about three individuals' experience with MAT throughout the year. I also co-produced with photographer Jeffrey Stockbridge a series of documentary shorts about the opioid crisis in Kensington.
Q: Tell us about your reporting and what you learned about the issues people face.
I spent a lot of time under bridges in homeless drug-user encampments talking to people about their lives. I also frequented Prevention Point Philadelphia, one of the largest syringe exchanges in the country, which also has a Suboxone treatment program and offers HIV testing and other services. It was hard to watch people injecting drugs and feeling ill and dope sick, but I was able to see the users as human beings, sometimes not so different from myself. I struggle with mental illness and could empathize with those who were suffering and felt the need to self-medicate. I also became very close to the three individuals I ended up following through the year and still keep in touch with them.
Q: What was the most challenging aspect of this project?
The most challenging aspect was worrying about encountering drug dealers and my safety. Dealers hate reporters because we disrupt business. I tried always to go to the encampments with the photographer I collaborated with. The other challenge was just dealing with my own anxiety doing this type of reporting, but I nearly always became engrossed in what I was doing and forgot about my worries.
This article was published in May 2019 for Mental Health Month. Read the rest of the interview on cartercenter.org