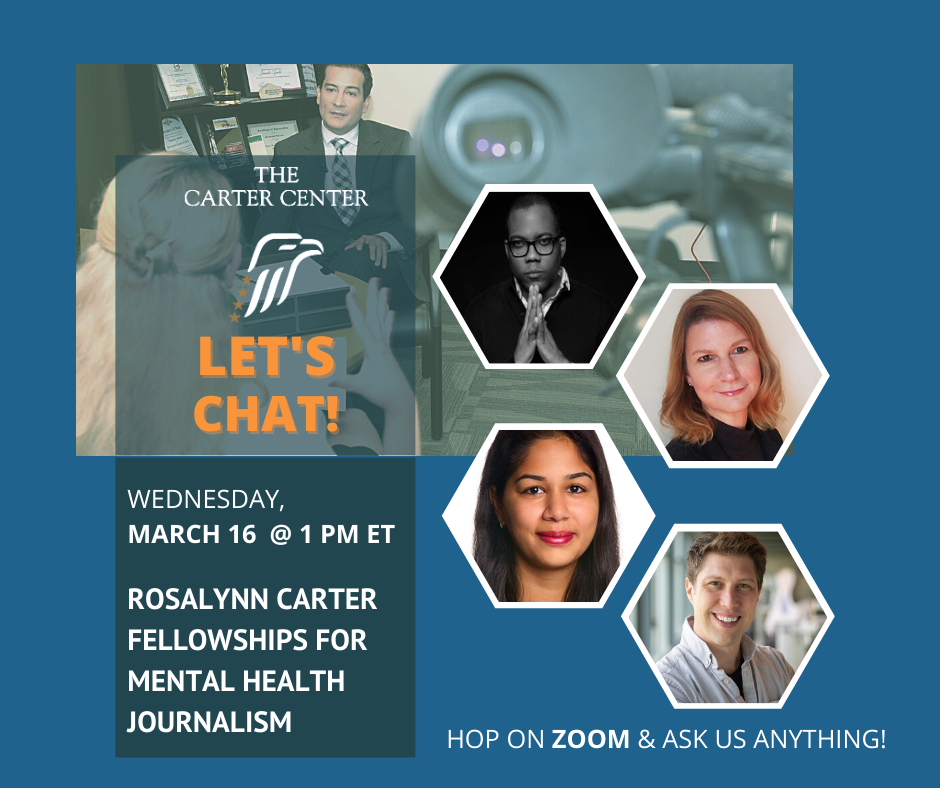 Let's Chat! Carter Center fellows and advisors answer your fellowship questions.
Carter Fellows, Fellowship Advisory Board members and staff will take live questions about the fellowships, applications and more.
ATLANTA — The Carter Center's Rosalynn Carter Fellowships for Mental Health Journalism will host Let's Chat on Zoom on March 16, 2022 at 1 p.m. ET.
REGISTER FOR 'LET'S CHAT' ON ZOOM HERE
This is an open event for journalists interested in applying for a fellowship. Come with questions to ask past and current fellows, advisors and staff about the fellowships, applications and more.
Chat with fellows Aneri Pattani, contributor at Kaiser Health News, and Brett Sholtis, health reporter for WITF, along with U.S. Fellowship Advisory Board members Jimmie Briggs, principal at Skoll Foundation, and Caroline "CC" Clauss-Ehlers, professor of psychology at Long Island University– Brooklyn.
What: Carter Fellows Let's Chat
When: March 16, 2022 at 1 p.m. ET
Who you'll be talking to: 
Jimmie Briggs has more than two decades of experience as a journalist, author and activist. He is a principal at social entrepreneurship funder Skoll Foundation and co-founder of the Man Up Campaign, a global initiative to activate youth to stop violence against women and girls. Briggs is a 2006-2007 Carter Fellow and has served as an adjunct professor of investigative journalism at the New School for Social Research, as a George A. Miller Visiting Professor in the Department of African and African American Studies at the University of Illinois: Champaign-Urbana, and adjunct documentary journalism instructor at the International Center of Photography. Briggs has worked for The Washington Post, The Village Voice and LIFE magazine and is a contributor for Vanity Fair. Briggs is the author of  "Innocents Lost" (2005).
Dr. Caroline "CC" Clauss-Ehlers is Professor of Psychology at Long Island University– Brooklyn and an affiliate faculty member for Rutgers Global. She was a 2004-2005 Carter Fellow whose project focused on the stigma of mental illness within Latinx communities for Hoy (Newsday in Spanish). Dr. CC has been a guest correspondent for Univision and contributed to Ser Padres (Parents magazine in Spanish). She has published five books and was chair of the APA Task Force on Re-envisioning the Multicultural Guidelines for the 21st Century. Dr. CC focuses on cultural resilience, trauma, bilingualism, and children and families within diverse community contexts. She has specialty board certification in couple and family psychology from the American Board of Professional Psychologists and a part-time private practice.
Aneri Pattani is a national health correspondent for Kaiser Health News. She was previously an investigative reporter with Spotlight PA and has also covered covered mental health, suicide, and health disparities at The Philadelphia Inquirer. While there, she helped launch a biweekly solutions-oriented series aimed at engaging diverse communities. Pattani was a James Reston reporting fellow at The New York Times and her work has appeared in The Boston Globe, The Texas Tribune, CNBC, and The Hartford Courant.
Brett Sholtis is the health reporter at NPR affiliate WITF and this year's Benjamin von Sternenfels Rosenthal Grantee. His stories have run on NPR, Kaiser Health News, Philadelphia Inquirer, Spotlight PA and public radio stations across Pennsylvania. He is the host of Transforming Health's annual "A Summer Read" book series and a member of the Association of Health Care Journalists and NPR/Kaiser Health News' team of reporters. Previously, he was a business reporter at York Daily Record. For his fellowship, Sholtis is looking at potential solutions to preventing fatal police encounters and ways to address the criminalization of people with mental illnesses.
About the Fellowships
Founded in 1996, the highly-competitive Rosalynn Carter Fellowships for Mental Health Journalism program awards yearlong, non-residential fellowships to journalists from the United States, Latin America, Qatar, and the United Arab Emirates to report on a mental health topic of their choice. Fellows receive a generous stipend, training, networking opportunities, and access to top experts and resources in mental health and journalism.
The fellowships are part of The Carter Center's Mental Health Program, which works around the world to improve access to mental health care and reduce stigma and discrimination against people with mental illnesses.
Before you join us on Zoom, we recommend you follow @CarterFellows, review our Frequently Asked Questions and tips for applying, and get your questions ready in advance. 
[Related: So you want to be a Carter Fellow? What I wish I knew before applying.]
Fellowship applications are open until April 7, 2022. CLICK HERE TO APPLY.