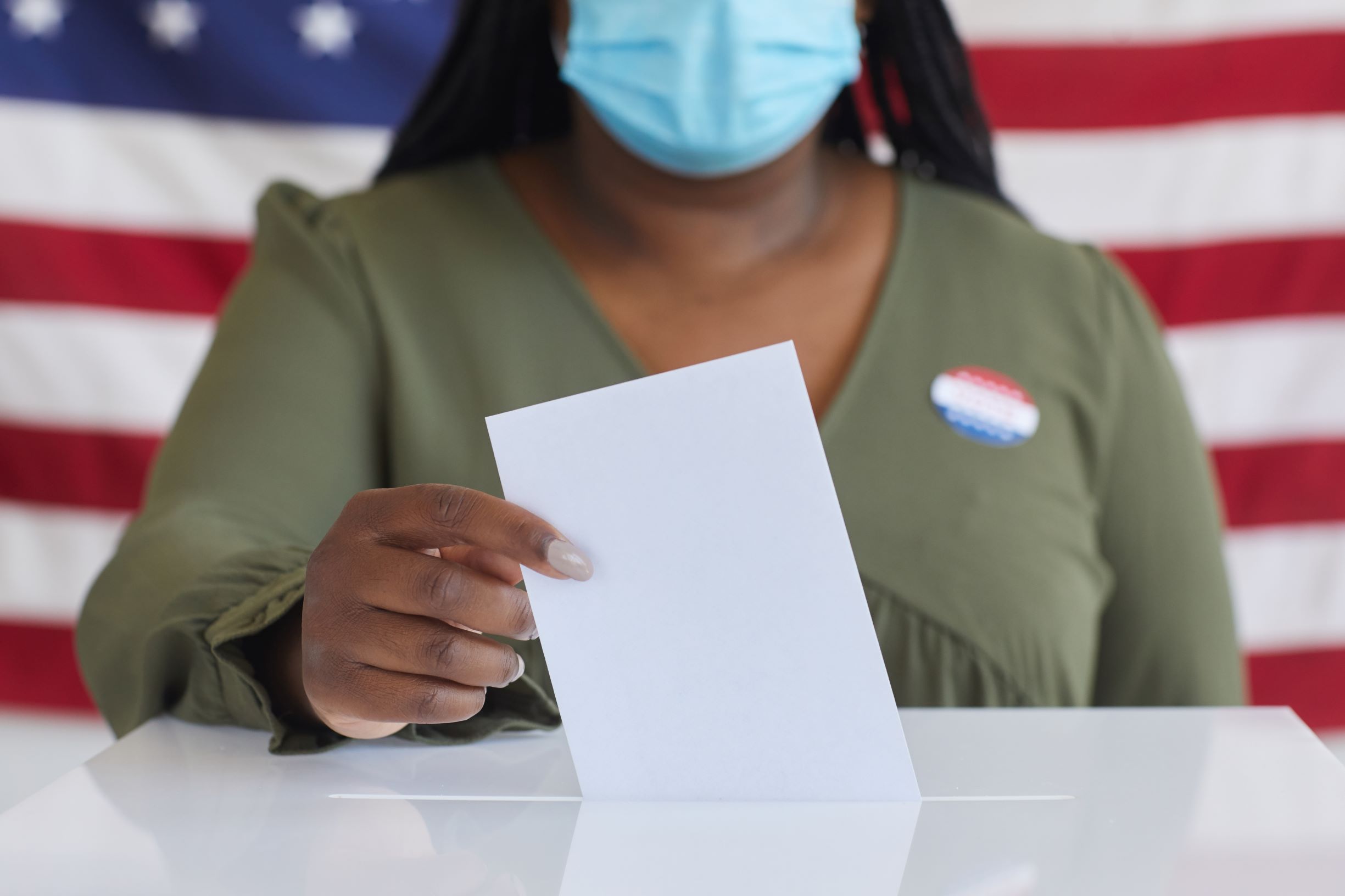 Carter Center's Mental Health and Democracy Programs join Hearken to support US journalists during election
By Susan Hunsinger
Mental Health Program Associate
The run up to the 2020 election in the United States — and its aftermath — has affected everyone, especially journalists tasked with covering the dizzying pace of unfolding events.
The U.S. faced serious threats, like mistrust in the election process, disinformation and violence against journalists against the backdrop of racial injustice and protests, the pandemic and growing economic uncertainty.
It's part of what prompted Hearken to launch Election SOS in May 2020, and later partner with The Carter Center, to train journalists and connect them with free resources, best practices and support around election coverage, including the recent Georgia runoff in January.
"As we spoke to journalists and editors in newsrooms in early 2020, a pattern emerged: they felt underprepared and under-resourced for the 2020 elections," said Jennifer Brandel, cofounder and vice president for global partnerships at Hearken.
Hearken helps media outlets create processes to listen to and serve community needs, and scale those processes through technology. And that's what they did.
"As a journalism support organization, we saw an opportunity to train journalists on some alternate approaches that we know work better to serve the public than traditional coverage types," Brandel said.
In 2020, The Carter Center also engaged for the first time in non-partisan involvement in a U.S. election after decades working on election standards, transparency and monitoring internationally, and by invitation.
The center launched an initiative in August 2020 to increase public knowledge around key election issues and processes, and encourage electoral transparency and access to civic observers.
With The Carter Center's existing experience awarding Rosalynn Carter Fellowships for Mental Health Journalism through its Mental Health Program and helping journalists report effectively on mental health, the synergy was clear.
"The Center's areas of programming allowed us to provide unique and interesting perspectives at the intersection of critical issues like elections and the mental health of those who report on them," said Avery Davis-Roberts, associate director of The Carter Center's Democracy Program.
The resulting partnership between Hearken and The Carter Center's two programs led to three training modules delivered in October 2020 that focused on vicarious trauma, election transparency and international standards and practices.
The training was also later repurposed for Hearken's Election SOS "first aid kit" for journalists covering the Georgia runoff election on Jan. 5, 2021.
Watch Hearken's and The Carter Center's Election SOS training:
Over 80 journalists attended the October virtual training live and the recordings received about 300 views, according to analytics provided by Hearken.
The session came on the heels of The Carter Center joining the Georgia Bipartisan Task Force on safe, secure and accessible elections.
Shortly afterward, the center moved in November to monitor the risk-limiting audit and processes in Georgia, with nonpartisan monitors deployed to county audit boards across the state.
"The Carter Center was a tremendous partner, providing their expertise in a variety of domains, from trauma in reporting and lessons from elections overseas to transparency in the electoral process as part of confidence-building," Brandel said.
Heath Druzin, Boise State Public Radio reporter and 2015-2016 Carter Fellow, was part of the Election SOS panel, Vicarious Trauma and Protecting Yourself as the Reporter.
"If you're empathetic, that makes you a good reporter, but it also means you're internalizing other people's pain and grief," Druzin told attendees at the October 2020 training.
"It's OK and normal to do that, but you have to watch yourself carefully also," added Druzin, who reported during his fellowship year on barriers to mental health treatment for veterans with less than honorable discharges.
Druzin was joined on the panel by Dr. Lori Zoellner, director of the University of Washington Center for Anxiety and Traumatic Stress, and Kari Cobham, The Carter Center's senior associate director for its mental health journalism fellowships.
In the Election SOS panel on transparency and public confidence in the election,  Lia Merivaki, a member of The Carter Center's U.S. Election Expert Study Team and assistant professor in American politics at Mississippi State University, led experts in a discussion of the biggest challenges facing journalists, and how elections offices and journalists could foster greater transparency and trust in the electoral process.
The Carter Center's Election SOS session on international standards and practices looked at how those standards relate to critical aspects of the electoral process and lessons from election experiences overseas. 
It was moderated by Rana Shabb, research coordinator for The Carter Center's initiative to strengthen transparency and trust in U.S. Elections.
"Many organizations provide elections resources, but none are tackling on a wider scale issues that span both election standards and practices as well as journalists' mental health," said Cobham, who runs the center's journalism fellowships.
"Preventing the aftermath of trauma endured by journalists while reporting on emotionally taxing subjects is necessary to ensure ongoing effective reporting, a free press, and the country's democracy," Cobham added.
For more information on The Carter Center's Democracy and Mental Health programs, visit cartercenter.org.