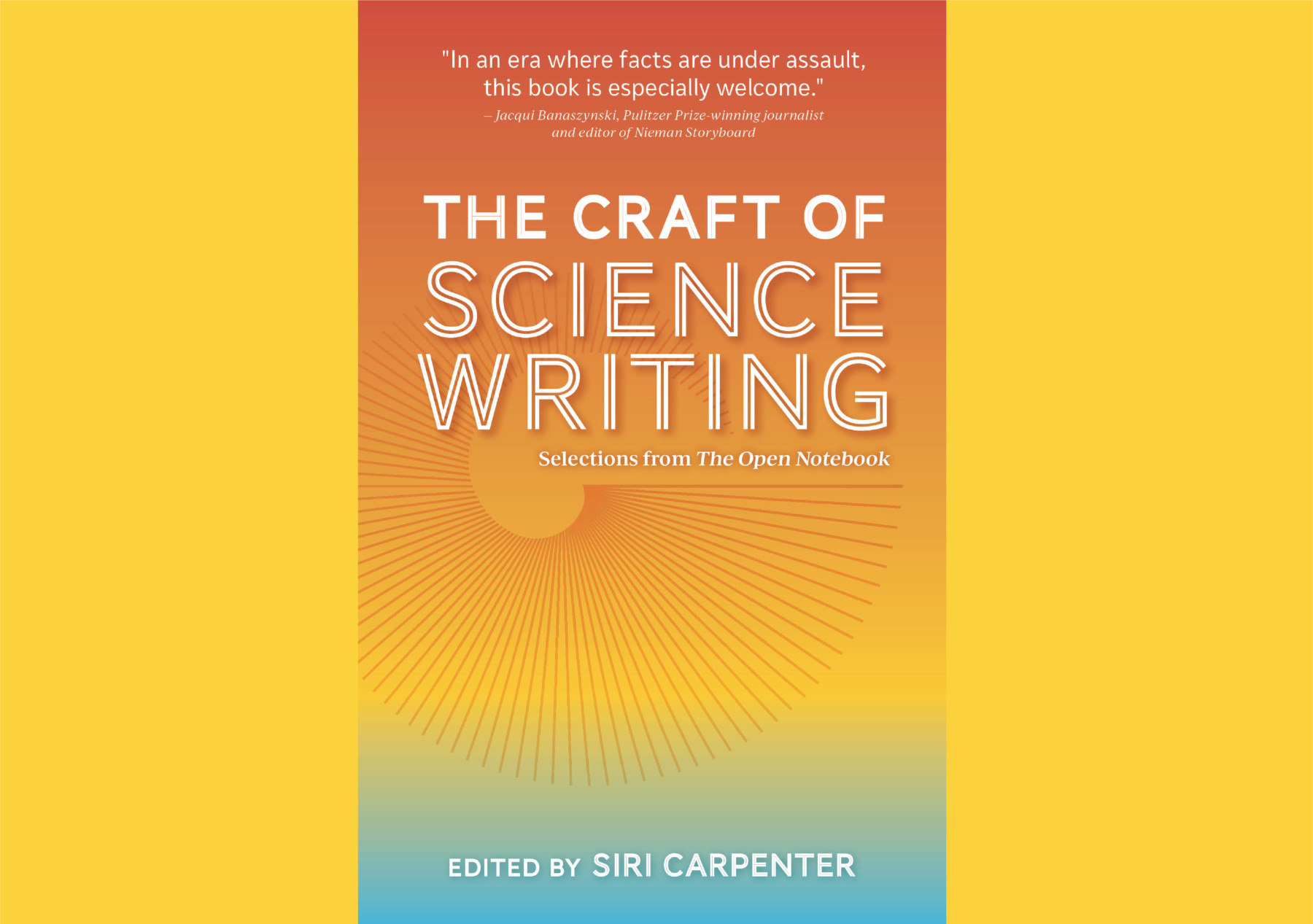 Carter Fellows' work featured in Open Notebook's "The Craft of Science Writing"
By Iain Smith
Carter Center Intern
ATLANTA — Three Rosalynn Carter Mental Health Journalism fellows have had their work featured in The Open Notebook's latest book, "The Craft of Science Writing."
In the book, The Open Notebook pooled a collection of articles to educate scientists and science journalists on science writing.
It includes essays from 2013-2014 fellow Christie Aschwanden, author, journalist and editor; 2019-2020 fellow Aneri Pattani, investigative reporter at Spotlight PA; and 2019-2020 Latin American fellow Rodrigo Pérez Ortega, a health, science and environmental reporter.
"'The Craft of Science Writing' pulls back the curtain to show how science journalists work — from how they think about which stories to report, to how they find sources, to how they report, write and fact-check their stories," said Siri Carpenter, The Open Notebook's co-founder, editor-in-chief and the book's editor.
The Open Notebook is a non-profit organization that provides tools and resources to help scientists, environmental and health journalists improve their skills, according to the group's website.
Published in February 2020, the book includes interviews with leading journalists and detailed essays that offer practical advice, like transitioning into science writing, finding and pitching a science story, reporting on controversial topics and ensuring stories are written using accurate language.
Using Reporting Skills from Any Beat
Carter Center Fellow Aneri Pattani of Spotlight PA had two essays featured in the book: "How to Use Reporting Skills from Any Beat for Science Journalism" and "Do You Need a Science Degree to be a Science Reporter?"
"I really enjoyed reporting and writing both articles because, in many ways, they reflect my own journey as a journalist," said Pattani, whose fellowship project is focused on the mental health of college students.
Pattani's essay on using general reporting skills in science journalism looks at how various beats helped prepare her for science writing.
"Rather than being unintended detours, those previous beats taught me a lot that has made me a better health and science reporter," Pattani said.
Her second essay addresses how journalists can get into science writing and whether a degree in the sciences is crucial. She interviewed reporters from scientific and non-scientific backgrounds.
Pattani herself has no formal education in the health and science fields, but says she sought opportunities to educate herself—including through the Carter Center's mental health journalism fellowship.
"One of Aneri's great skills as a reporter is that she is very skilled at pulling together information and ideas for a wide variety of sources and synthesizing those to create a deeply reported piece," Carpenter said.
Preparing Young Journalists to Cover Science Conferences
Current Latin American fellow Rodrigo Pérez Ortega said that it was a thrill when his story on how to cover scientific conferences was selected to be in the book.
After he completed a degree in biomedical research with a specialization in neurosciences at the Universidad Autónoma de México, Pérez Ortega ventured into science journalism with his column "Sinapsis" in TecReview magazine.
Pérez Ortega had previously covered conferences, but said hadn't learned how to do it well. He sometimes felt unprepared, he said.
The experience led to his essay, which offers basic guidance to other young journalists to help them not feel as lost as he did, he said.
In 2019, The Open Notebook hired Pérez Ortega as their Spanish translations coordinator. He now oversees the translation of a growing number of their stories to Spanish.
"Rodrigo has such a deep understanding of The Open Notebook's mission and of how we can extend our reach to the Spanish-speaking community in the U.S. and throughout Latin America," Carpenter said.
Pérez Ortega's Carter Center fellowship project—a joint effort with Myriam Giselle Vidal Valero—focuses on the mental health of Latin American migrants on the U.S.-Mexico border.
When waves of Central American migrants began reaching the border, Pérez Ortega said he surmised that the mental health of this vulnerable population was not being addressed.
Pérez Ortega and Vidal Valero spent three weeks at the border in 2019 reporting on the ground and meeting with the families stranded in legal limbo who were dealing with untreated trauma.
"The experience changed my career because I grew as a journalist and as a human, and I felt a great deal of responsibility to tell the story of these voiceless migrants," Pérez Ortega said.
Support From the Get-Go
Christie Aschwanden, a 2013-2014 Carter Center fellow, has been involved with The Open Notebook since its inception, supporting Carpenter when she first considered creating the company and later serving as its managing editor.
Aschwanden said she loved Carpenter's idea to turn stories and interviews that the site published into a reference book that could help writers develop their craft. She immediately agreed to write one of the chapter introductions.
Carpenter called the decision to involve her in the book "a no-brainer" and said Aschwanden is "one of the best science journalists out there."
During her fellowship year, Aschwanden focused on the mental health challenges among the children of veterans.
"This is a challenging time for science and for journalism. We're surrounded by so much misinformation, both about science and about how journalists work," Carpenter said. "The discussion about coronavirus and how the media has reported on it is a prime example."
"To me, that makes "The Craft of Science Writing" relevant not only for anyone who wants to write about science and do it well, but for anyone who wants to be a critical consumer of scientific material," Carpenter added.

Iain Smith is a graduate of St-Andrews University in Scotland where he studied sustainable development and human geography. He is currently a Robert T. Jones Scholar at Emory University. Iain has also secured internships at CNN and the British Consulate.