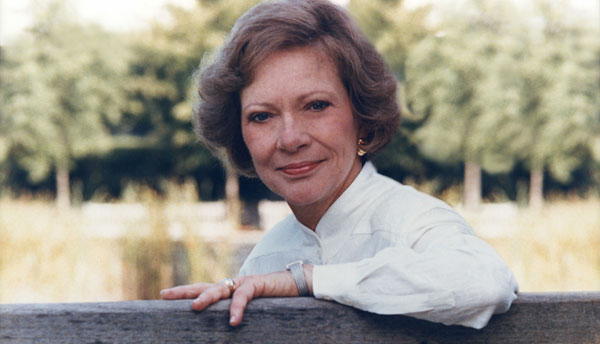 Her Secret Service code name and other lesser known facts about First Lady Rosalynn Carter
By Susan Hunsinger and Katie Connor
Carter Center Mental Health Program
Former U.S. First Lady Rosalynn Carter has been in the public eye since her husband Jimmy ran for Georgia governor 50 years ago.
She is best known for her advocacy for mental health issues, caregiver issues, as co-founder of The Carter Center and founder of the Rosalynn Carter Fellowships for Mental Health Journalism.
But there's more to this "steel magnolia."
How many of these facts do you know?
1. Rosalynn Carter's first name is Eleanor.
2. Rosalynn Carter's Secret Service code name is Dancer.
3. Carter was the first First Lady to establish an office in the east wing of the White House and have a projects staff.
4. The press dubbed Mrs. Carter the "steel magnolia" for her "sweetness and drive."
5. Carter loved the gown she wore for the Georgia Governor's inaugural ball so much that she wore it again at Presidential inaugural ball—and was criticized for wearing it twice.
6. Mrs. Carter is a seamstress and used to make her daughter Amy's clothes. She stopped sewing once she moved into the Governor's Mansion because there was no time.
7. Fly fishing in a remote stream anywhere in the world is Mrs. Carter's favorite thing to do.
8. Carter has a rose, an orchid, a camellia, and an azalea named for her.
9. Rosalynn Carter is an advocate for monarch butterfly conservation and inspired the establishment of the Rosalynn Carter Butterfly Trail, a network of monarch-friendly public and private gardens across the U.S. and beyond.
10. Mrs. Carter was valedictorian of her Plains High School graduating class.
11. Carter enjoys listening for turkeys calling in the Plains woods with President Carter when he goes hunting.
12. Rosalynn Carter learned how to hula in Hawaii during President Carter's time in the U.S. Navy.
13. Carter was born on the 7th anniversary of the ratification of the 19th Amendment granting women the right to vote.
14. Carter supports the Equal Rights Amendment (ERA) that constitutionally protected women's rights in the late 1970s.
15. Rosalynn Carter was never a Girl Scout because there wasn't a troop in Plains, Georgia. As First Lady she was named an honorary scout, a custom extended to first ladies.
16. Lillian Gordy Carter, President Jimmy Carter's mother, helped to deliver Rosalynn Carter in the house next door to his home.
17. President Jimmy Carter first "met" Rosalynn when he was three years old.
18. Former First Lady Rosalynn Carter is the sponsor of the last Seawolf submarine, the USS Jimmy Carter.
19. President and Mrs. Carter are both the eldest of four children.
20. Rosalynn Carter's first book, First Lady from Plains, topped The New York Times non-fiction bestseller list.
21. Mrs. Carter was the lead envoy on a U.S. delegation to seven Latin American and Caribbean countries in 1977.
22. Rosalynn Carter's mother, Allie Murray Smith, graduated from Georgia State College for Women in Milledgeville, now Georgia College & State University.
23. As honorary chair of the Last Acts Campaign to improve end of life care, Mrs. Carter was an early advocate for the hospice movement and palliative care.
24. Mrs. Carter was a key advocate for passage of legislation during the Carter administration requiring vaccinations for school children.
25. Rosalynn Carter is opposed to the death penalty.
Melissa Montgomery, special assistant to Rosalynn Carter; Curtis Kohlhaas, Carter Center chief development officer; Kathy Cade, vice chair of the Carter Center's Board of Trustees; and Steven Hochman, director of research and faculty assistant to President Jimmy Carter, contributed to this article.