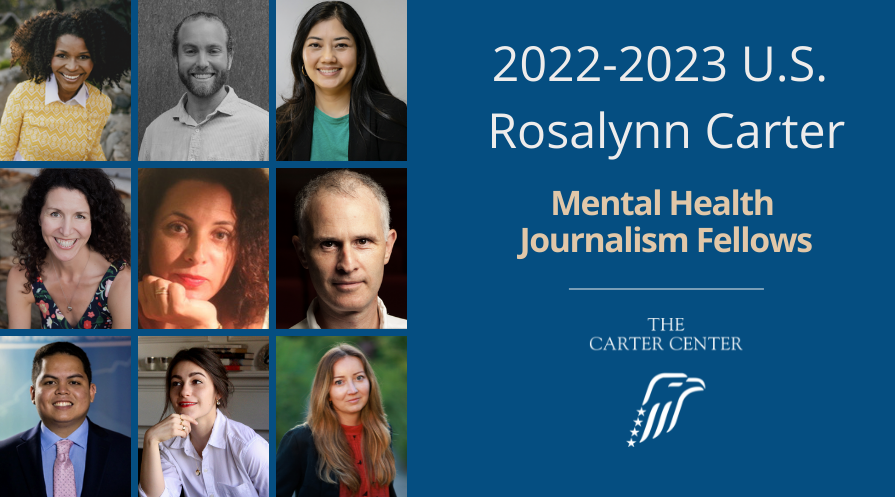 The Carter Center Awards 9 U.S. Journalists Rosalynn Carter Fellowships for Mental Health Journalism
The Center will train fellows on accurate and effective mental health reporting and provide access to mental health experts

ATLANTA (July 14, 2022) — The Carter Center is pleased to announce nine U.S. recipients of the 2022-2023 Rosalynn Carter Fellowships for Mental Health Journalism.
The group includes freelancers, staff reporters, a Georgia journalist, and the third annual awardee of the Benjamin von Sternenfels Rosenthal Grant for Mental Health Investigative Journalism, in partnership with Reveal from the Center for Investigative Reporting.

The Carter Center will announce international fellows later this summer, in collaboration with The National newspaper in the United Arab Emirates, the World Innovation Summit for Health (WISH) in Qatar, and Universidad de La Sabana in Colombia.
Beginning in September, fellows will pursue innovative mental health journalism projects of their choice during the nonresidential, year-long fellowship. The projects tackle some of society's biggest behavioral health challenges and seek to strengthen reporting, drive change in their communities, and help reduce stigma through storytelling.
This year's fellows are accomplished journalists who have a high interest in in-depth mental health reporting. Fellows are selected by a committee of current and former journalists, mental health experts, and the U.S. Fellowship Advisory Board, with an emphasis on diversity.
Carter Center U.S. fellows receive a $10,000 stipend to report on approved mental health topics of interest and intensive training from leading mental health and journalism experts.
The fellowships challenge recipients to delve deeper into learning about mental and behavioral health issues to share reliable information with the public about mental illnesses.
Fellows will receive virtual training on effective behavioral health reporting from past fellows and advisors, connect with alumni, be paired with their mentors, and gain a deep understanding of behavioral health.
The Carter Center is pleased to welcome the 2022-2023 U.S. class of Rosalynn Carter Fellows for Mental Health Journalism:

Marla Broadfoot
Freelance Journalist
Twitter: @mvbroadfoot
Topic: Examining the mental health of parents with LGBTQ teens
Marla Broadfoot is a freelance science journalist based in Wendell, North Carolina. She is known for her deeply reported stories, grounded in scientific research and featuring overlooked voices. She has written about how new treatments for autoimmune diseases demonstrate the precarious balance the body maintains between protection and pathology and why the COVID-19 pandemic's recent Omicron wave put more children in the hospital. Her work has appeared in Scientific American, Science, STAT, The Scientist, Discover, Nature News, and Science News, among others. She is the former president of the Science Communicators of North Carolina, a contributing editor at the award-winning magazine American Scientist, and an adjunct faculty member at the University of North Carolina at Chapel Hill. Before shifting to journalism, she earned a PhD in genetics and molecular biology from the University of North Carolina at Chapel Hill and did a postdoctoral fellowship at the National Human Genome Research Institute in Bethesda, Maryland.
Jonathan A. Davis
Freelance radio reporter, producer, and editor
Twitter: maybeejaydee
Benjamin Von Sternenfels Rosenthal Grantee for Mental Health Investigative Journalism
Topic: Examining psychedelic therapy through a clinic and its clients
Jonathan A. Davis is a freelance radio reporter, producer, and editor. He has worked in newsrooms and on audio series for two public radio stations as well as on a variety of independent podcasts. This includes serving as associate producer on KALW's feature podcast, The Intersection, the Edward R Murrow Award Winning audio series coming out of the San Francisco NPR affiliate station. During his time as its producer, the series also won San Francisco Press Club's first place prize for best radio documentary. Beyond Jonathan's public radio work, he's also helped develop four independent podcasts from scratch including serving as producer and editor on those series.
Prior to audio journalism, Jonathan worked in a variety of sectors including management consulting, sustainability consulting, financial services, workforce development, philanthropy, and the social justice non-profit world. He works to bring those unique perspectives to the audio he makes.
Prior to working as a radiomaker with KALW, Jonathan was a part of their Summer Journalism Fellowship and training program. He has also reported and produced news features for KPFA, the legendary Pacifica Network outpost in Berkeley, Ca.
Micah Fink
Producer, Common Good Productions
Twitter: @Micahfink
Topic: "Conversations with Sydney:" A 10-part radio series report on the rise in teen suicides over the last decade
Micah Fink is an Emmy-nominated producer and reporter specializing in storytelling at the intersection of science, public health, and the environment. His award-winning documentary films have appeared on PBS, HBO, National Geographic, The Teaching Channel, and CNN. His most recent film, "Low Relief for High Water," premiered at the San Francisco Green Film Festival in April 2022. Fink began his reporting career working on investigative films for PBS Frontline and later produced five films for PBS's international documentary series Wide Angle, including the Emmy-nominated film "Killer Flu," which tracked the spread of the avian flu virus in Vietnam. His work has been recognized with three Emmy nominations and won two Cine Golden Eagle Awards, a Silver Screen award, an Amnesty International Human Rights Award, a Silver Telly Award, and multiple best documentary awards at film festivals around the world. He holds a master of science in journalism from Columbia University and a bachelor of arts in comparative literature from Cornell University and is currently on the faculty of the MFA Program in social documentary at the School for Visual Arts in NYC.
Hannah Furfaro
Mental Health Reporter, The Seattle Times
Twitter: @hannahfurfaro
Topic: An Investigation of the gaps in the continuum of pediatric mental healthcare in Washington
Hannah Furfaro is a mental health reporter at The Seattle Times. She spent the first half of her career covering education; for the past several years, she has covered science and health. Her stories have appeared in The Atlantic, Science, Scientific American, and The Wall Street Journal, among other publications. Furfaro's work has been recognized as a finalist and winner of several national and regional awards. In 2021, her investigation of a common antipsychotic called Abilify was a finalist for the National Institute of Health Care Management award. In 2019, her piece about a cluster of people with a rare genetic condition in Colombia was recognized as a finalist for a Deadline Club award and was included in The Best American Science and Nature Writing. She has a master's degree in science and health journalism from Columbia University and an undergraduate degree from the University of Wisconsin-Madison. She is a committee member of the Association of Health Care Journalists and a member of the Northwest Science Writers Association.
Chanté Griffin
Freelance Journalist
Twitter: @yougochante
Topic: Reclaiming themselves: Black women and hair loss
Chanté Griffin is a journalist and natural hair advocate whose work centers on the intersection of race, culture, and faith. She is a contributing writer for The Washington Post and Faithfully Magazine. She is also a former contributor for The Root and LA Weekly. In 2019 she became an Emerging Leader Fellow for Arts Religion Culture, an organization that celebrates the intersection of faith, culture, and the arts. In 2021 she became a fellow with the California Arts Foundation to pen her first solo book project, "Your Black Neighbor: A Call to Love." Her article "How Natural Black Hair at Work Became a Civil Rights Issue," published in JSTOR Daily, was the first article to provide a comprehensive history of anti-natural Black hair laws in the U.S. She co-leads two creative communities, the Global Writers' Group, and Spirit & Scribe.

Soreath Hok
Reporter, KVPR
Twitter: @SoreathH
Topic: Cambodian genocide survivors and PTSD

Soreath Hok is a reporter for KVPR, Valley Public Radio in Fresno, CA. She currently covers local politics and government and has filed reports from California's central valley for NPR. As a Cambodian American, she has also focused on pursuing stories that represent the underserved Cambodian community. Her media experience includes an extensive background in television and digital production.

Thomas Mangloña II
Senior Digital Producer and Regional Correspondent, KUAM News
Twitter: @thomasreporting
Topic: Examining the aftermath of Typhoon Dolphin, Typhoon Soudelor, Typhoon Yutu, Typhoon Mangkhut, and the ongoing COVID-19 pandemic on mental health
Thomas Mangloña II is a journalist from Rota, Northern Mariana Islands, with experience in local, regional, and national newsrooms. He is a senior digital producer and regional correspondent for KUAM News based in Guam covering Micronesia and Pacific issues. Mangloña received a master of arts in journalism at Stanford University as a Harry S. Truman Scholar. He is a Phi Beta Kappa graduate from the University of California at Berkeley, where he earned his bachelor's in media studies with high distinction in 2020. He is a 2016 Gates Millennium Scholar. At UC Berkeley, he served as executive director of its television news station, CalTV, and supervised over 100 members. He helped establish the first Critical Pacific Island Studies Library Guide at the UC Berkeley Ethnic Studies Library. He is an active member of the Native American Journalists Association and Asian American Journalists Association. At AAJA, he founded the Pacific Islander Journalism Task Force to advocate for journalists and coverage across Oceania.
Rebekah Sager
Senior Staff Writer, Daily Kos
Twitter: @Rebekah_Sager
Topic: Mental health challenges faced by Black teachers

Rebekah Sager is an award-winning journalist with over a decade of high-profile media placements and is a senior staff writer with Daily Kos. Her work is featured in "Chicken Soup for the Soul: I'm Speaking Now: Black Women Share Their Truth in 101 Stories of Love, Courage, and Hope" and she has contributed to The Washington Post, Playboy, VICE News, The Hollywood Reporter, HuffPost, Upworthy, Dame, Cosmopolitan, Bustle, and The Los Angeles Times. She has reported stories on a variety of culturally relevant subjects—from a cover story on co-founder of the Black Lives Matter movement, Patrisse Cullors, to a profile of actor and singer Billy Porter. She has reported on male survivors of sexual assault at the height of the "Me Too" movement and for The Washington Post, she has written two personal essays and a reported story on a group of mothers of Black sons, who started a national organization to support one another and change policies around policing. She is a regular contributor to sites focusing on Black women, such as Sisters from AARP and Zora, and has written for women-focused sites, such as Bustle and Dame and the nonprofit Black Women's Health Imperative. Sager received a BFA from Carnegie Mellon University.
Rainesford Stauffer
Freelance Journalist, author
Twitter: @Rainesford
Topic: Addressing the lack of mental health resources in southern schools, and how young people are impacted by stigma, ongoing crisis, and lack of access

Rainesford Stauffer is a freelance writer and reporter whose work has appeared in Teen Vogue, Scalawag, The Atlantic, The New York Times, Vox, and other publications. Her first book, An Ordinary Age, was named one of the Best Nonfiction Books of 2021 by Esquire Magazine, and her second, All the Gold Stars, is forthcoming. Rainesford is a contributing editor at 100 Days in Appalachia, where she piloted an eight-week series publishing the essays, op-eds, and reporting of young people throughout the region. Now, the Appalachian Youth Creators Project is a mainstay vertical, responsible for some of the most-read stories on the site. In addition, Rainesford assisted with focus groups for the Rural Digital Youth Resiliency Project, an independent nonprofit research project devoted to advancing public understanding of risks rural youth face online. A born-and-raised Kentuckian, Rainesford is proud to be writer-in-residence with the Kentucky Student Voice Team. She has appeared on MSNBC, CNN, and Good Morning America. Rainesford holds a bachelor of arts degree from The New School, where she completed her education online.
Learn more about the Carter Center's Georgia mental health program:
https://www.cartercenter.org/health/mental_health/index.html

Read about Rosalynn Carter's 50 + years of mental health work:
https://www.cartercenter.org/health/mental_health/honoring-50-years-of-mental-health.html

Follow @CarterFellows on Twitter for reporting from all Rosalynn Carter Fellows for Mental Health Journalism.

Contact: Rennie Sloan, rennie.sloan@cartercenter.org

The Carter Center
Waging Peace. Fighting Disease. Building Hope.
A not-for-profit, nongovernmental organization, The Carter Center has helped to improve life for people in over 80 countries by resolving conflicts; advancing democracy, human rights, and economic opportunity; preventing diseases; and improving mental health care. The Carter Center was founded in 1982 by former U.S. President Jimmy Carter and former First Lady Rosalynn Carter, in partnership with Emory University, to advance peace and health worldwide.