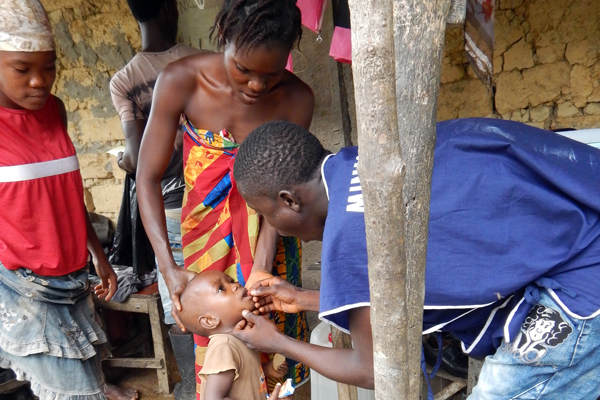 Crises hit Liberia and Haiti hard. But they've needed mental health support long before Covid-19.
By The Carter Center Global Behavioral Health Team
Less than a decade after Ebola impacted Liberia, which sits along the North Atlantic coastline in West Africa, a new threat sweeps the globe—Covid-19.
Now, as it did then, The Carter Center's Mental Health Program is working to sustain Liberia's mental health system and reach some of the most vulnerable in Haiti among already traumatized populations.
Since 2010, The Carter Center's Mental Health Program has helped build Liberia's workforce, engaged with citizens to advocate for quality mental health services, and worked with the government in developing its policies and services.
"A great deal has been accomplished, but a great deal more is needed to sustain the system for mental health in Liberia," said Dr. Eve Byrd, director of The Carter Center's Mental Health Program.
Part of this includes working with United for Global Mental Health to provide to the government with a financial assessment to raise domestic and global awareness about the need to sustain the country's mental health system and the funding needed to get there.
During the Ebola epidemic in 2014, Liberian-born, then program lead Dr. Janice Cooper, became a leader in planning and implementing Liberia's Ebola response, including psychosocial services and supports.
In collaboration with government officials, The Carter Center's Mental Health Program placed mental health clinicians in Ebola treatment centers to provide mental health care for patients and healthcare workers.
The program also trained and supported first responders and worked with journalists to disseminate accurate health messaging that helped combat the stigma faced by people affected by Ebola.
Carter Center's Mental Health team convened community-healing dialogues and established school based behavioral health clinics to care for the mental health of children in the two counties most impacted by Ebola.
Much of the groundwork started before Ebola and remains in place as the world faces this new threat.
Since Ebola, the world looks to Dr. Cooper, now The Carter Center's Senior Program Advisor in Liberia; Program Lead Ben Dossen; Assistant Program Lead Wilfred Gwaikolo and their team for the lessons they learned, and expertise honed during Ebola.
"As the Covid-19 pandemic evolves, The Carter Center's Global Mental Health team is helping once again lead with incident management and mental health services while forging ahead to help strengthen the existing mental health system as much as possible," Dr. Cooper said.
'We must continue to integrate mental health into Liberia's health priorities'
The first COVID-19 case in Liberia was reported on March 16, 2020.
On April 10 — the same day the state of Louisiana reported 19,000 new cases and Michigan lowered its flag to half-staff for coronavirus victims — the Liberian government declared a 21-day State of Emergency. Then the Legislature extended it by 60 days.
By the first week in May, Liberia had 158 confirmed cases and 18 deaths.
The Carter Center's Mental Health Program team in Liberia immediately jumped in to help with the country's policy and emergency response, and to ensure mental health and psychosocial services are standard for managing Covid-19 cases.
The team has also helped support contact tracer and mental health training, deployed mental health clinicians and worked with the Mental Health Reporters Network to share basic mental health information with communities.
Alongside Covid-19 challenges, The Carter Center's Mental Health Program is working with organizations like the Liberian Center for Mental Health Outcomes and Research and Cultivation of Users Hope to seek partnerships and funding to keep the country's mental health system going.
As soon as it can, The Carter Center team will resume training child and adolescent mental health clinician trainees and expanding school based mental health services for children.
"The mental health of child-bearing women also must be a focus to address maternal and infant mortality in Liberia, which ranks one of the worst globally," said Mental Health Program Director Dr. Byrd.
The Carter Center's Mental Health Program is working to find funding to scale the Thinking Healthy Programme, endorsed by the World Health Organization, to train nurses and nurse midwives on how to address perinatal depression.
Some of the most vulnerable and stigmatized populations are also those who have contracted a neglected tropical disease or NTD.
Through its work in Haiti, The Carter Center found that over 50% of people with the parasitic disease lymphatic filariasis also lived with depression.
"We must continue to integrate mental health in the country's other health priorities by addressing the mental health of its vulnerable NTD population," Dr. Byrd said.
To document and share The Carter Center's work in Liberia, Dr. Amy Patterson with the University of the South, Sewanee, and Tulane University's Dr. Mary Clark are working on the case study, "Mobilizing to Address Mental Health in Low-Income Countries: The Case of the Carter Center."
Mental health training in Haiti amid a pandemic
In Haiti, the political insecurities and now increasing cases of Covid-19 exacerbate mental health disorders among its already traumatized population.
The Carter Center's Mental Health Program, in collaboration with the Center's Haiti lymphatic filariasis elimination program, is working to improve the lives of people with the disease, including their mental health.
Despite Covid-19 and other challenges, The Carter Center and its Haitian partners press forward with training nurses to recognize and treat common mental disorders and engage people with lymphatic filariasis in chronic disease self-management, which also helps with symptoms of depression.
During these very uncertain and extraordinarily stressful times, the Mental Health Program continues to advocate for mental health and well-being to be an integral part of the general global health maintenance and prevention of disease messaging.
"Without mental health, we cannot achieve full health," Dr. Byrd said.
Lead photo: A young girl gets a vitamin A supplement during a measles and polio vaccination drive. (Photo/CDC)
May is Mental Health Awareness Month. To learn about the Carter Center's work to advance mental health locally, nationally, and globally, visit cartercenter.org.