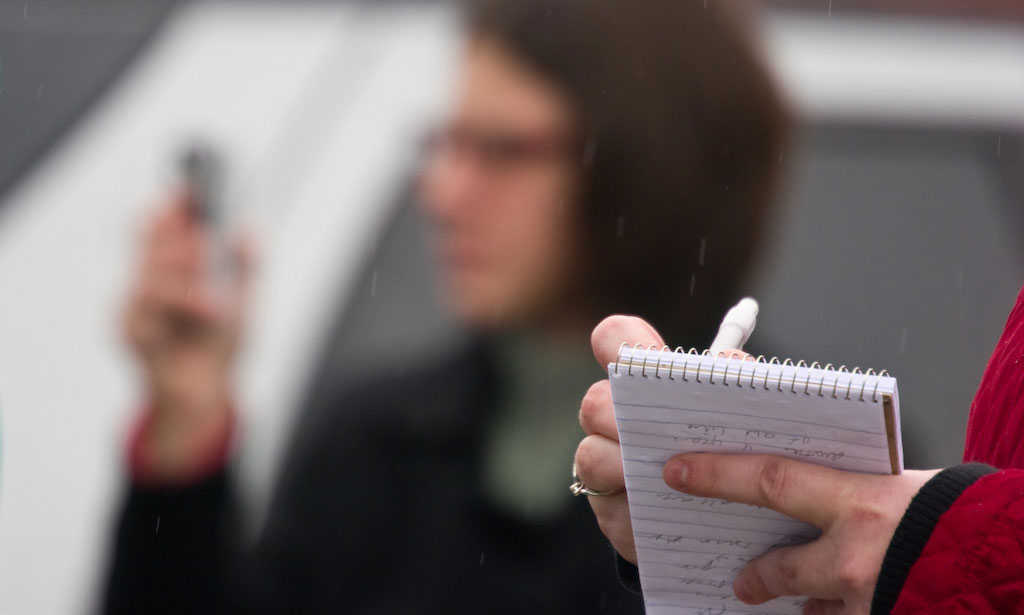 Not all insurance companies cover mental health services. The Carter Center seeks solutions through journalism.
By Kristyn Wellesley
Collaborative Manager
Over two years, I led reporting teams at USA TODAY that covered some of the most tragic events in recent Florida history, from mass shootings to devastating hurricanes.
Of the five mass shootings we covered in that time, the hardest was February 14, 2018, at Marjory Stoneman Douglas High School where 17 people were killed and another 17 injured. 
We read graphic reports, spent hours watching footage and months with the victims' families telling their stories of grief and activism.  
Journalists immerse ourselves to take the reader with us, but that takes its toll on our mental health. It's how I became interested in learning more about access to mental health care. And why I felt so strongly that the Carter Center's newsroom collaborative on parity was essential.
The collaborative — launched in 2021 as we celebrate former First Lady Rosalynn Carter's 50 years of mental health advocacy — will take a solutions journalism approach to reporting on health insurance parity and the issues surrounding it through the lens of local newsrooms in key states. 
"We must fight to ensure access to treatment for mental health and substance use issues," said Kari Cobham, senior associate director for the Carter Center's Rosalynn Carter Fellowships for Mental Health Journalism and Media. "We must merge vision with strategy, empathy with viable solutions and the power of the pen with real progress."
A behavioral health pandemic
Right now, as U.S. cities begin to open, there is yet another wave of the already devastating Covid-19 pandemic: the mental health and substance use impacts.
A recently released report from the Center for Disease Control says that between August 2020 and February 2021, more Americans reported feelings of anxiety and depression, particularly in young adults.
Overdoses and suicide attempts were up 36% and 26%, respectively, from mid-March to mid-October 2020, compared to the same period in 2019. Younger adults, historically marginalized groups, essential workers and unpaid adult caregivers are also disproportionately affected.
Despite a clear need for behavioral health care, it isn't always available, even if someone has health insurance. Challenges range from limited staffing in behavioral health care to a lack of understanding around parity and patient rights.
Despite parity laws passed nearly 25 years ago and a renewed call from lawmakers in 2008, many health care plans do not meet the requirements to cover behavioral health as they would physical health. 
For example, if a health insurance plan provides unlimited doctor visits for cardiac care, they must also provide unlimited doctor visits for depression.
A recently released Government Accountability Office report again highlights "longstanding concerns about the availability of behavioral health treatment, particularly for low-income individuals, given the demand for these services."
There were only enough mental health care providers in the U.S. to meet about 27% of the need in September 2020, the report noted.
This is where the Carter Center's parity collaborative comes in. 
The national newsroom collaborative will take a solutions journalism approach to reporting on health insurance parity and the issues surrounding it by bringing together a national news partner and other local newsrooms partners to look at how parity is working in those states and how the issues might be solved.
Moving the collaborative forward
The Carter Center's Mental Health Program received grants from the Lovell Foundation and individual donors in 2020 to build the collaborative using an investigative and solutions journalism approach to affect positive change.
As the center's collaborative manager, I am a dedicated resource for partner newsrooms. 
Since joining the project in February, I have worked with policy experts to target states and topics for the project. And I have built an editorial framework as well as editorial standards and ethics to guide partner newsrooms on sourcing, person-first language and media usage.
I met with potential national partners and we are preparing to connect with and onboard partner newsrooms. Partners will receive training on virtual empathy through the Rosalynn Carter Institute for Caregivers, solutions journalism and best practices for reporting on mental health.
Since 1996, the center has provided journalists with the resources they need to produce accurate and effective mental health reporting through Mrs. Carter's mental health journalism fellowships.
"The Center is committed to the ideals of its founder, former First Lady Rosalynn Carter, and we are bringing these resources to this important collaborative in the hopes that our solutions journalism approach will lead to a positive change in parity legislation," said Dr. Eve Byrd, director of the Carter Center's Mental Health Program.
Lead photo of a reporter jotting notes in a notebook in the foreground with another reporter holding a voice recorder in the background is by Roger H. Goun via Creative Commons license on Flickr.